Garden and park benches OBISS:
Design & Craft quality
We value longevity and high-quality craftsmanship. We make an elegant, durable bench with a comfortable backrest for your garden or park.
OBISS benches are a well-made product that will add comfort to any outdoor space.
OBISS garden and park benches made from bent steel. An instant classic!
Pick from our color selection or further customize with RAL colors!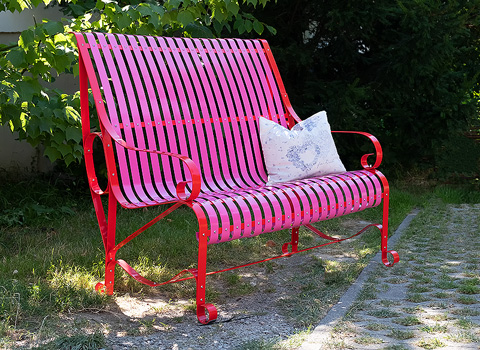 Why should you put trust in steel OBISS benches?
czech manufacturer with more than fifteen years of experience and own patented know-how
elegant and durable benches designed for parks, gardens and also for public places
two construction types - garden benches (higher backrest)
and park benches (lower backrest)
chooseable color combination - possibility of individualization
solid construction from bent steel, our metal benches are flexible
and comfortable thanks to the pre-stressed slats in the seat
and back (functionally like bed rails)
durable and maintenance free material with anti-corrosion protection, 5-year guarantee (lifetime tested up to 17 years)
coating colors durable against ultraviolet and weather exposure
fair price - direct purchase from manufacturer
easy transport (on a pallet in a cardboard package) and assembly
Take a look at garden benches and park benches in our catalogue or choose your owns color in Color configurator. Go through the Order, and if you agree, make an purchase within our easy order form.
Complementing the assortment
What our customers said
Show other "nice references" :-)