Order
a) Droping down the rider (Garden benches or Park benches), you can choose from our designproposals, (Karolina, Tatiana, Zuzana, Petrana, Tamara, Radka) and transfer it into our "order-form". You can see the specification-number in the enlarged picture - for example "Karolina-ZBL19(9003)".Then you can move on with your order.

b) Create your own color-combination in the Color configurator. There you can create any "RAL CLASSIC" color combination up to 9 different colors.

When you choose your own colors, we propose to take one up to three chromatic groundcolors and to combine them with one or two neutral colors. You will find inspirations in our gallery of color combinations and shared designs from our customers. And there is even more at the pinterstbanner at the bottom of this page. You can use your design from the Color configurator as additional information for your order. Then you can move on with your order.
Order per e-mail:
There are two ways how you can order the chosen product by e-mail.

a) Please type bench specification (it appears after zooming the picture in "favorite color combinations" photo gallery) into the order form. For example "Karolina-ZBL19(9003)".

b) Use the saved 2D-color-suggestion picture from the Color configuratorator, fill out the order form and send both to us as attachment of your order. Please specify if it is a garden bench (high backrest) or park bench (low backrest). We will send you immediately the provisional invoice with 50% of the total amount. The receipt of payment serves as order confirmation. After receipt of payment your individual designed bench goes into production and you get the final receipt with the delivery.

If you prefer the old-fashioned way, you are welcome to print out the order-form and in case of individual design also the results from the color generator and mail it to one of us.

Contact
Adress business owner :
Vratislav Obadal - OBISS
Dipl.Ing. foundry and metallurgy
739 41 Palkovice 493
Czech Republic
Telefon:
+42 (0) 732 990 638
+42 (0) 558 656 318
E-Mail:obiss@obiss.cz


Distribution Germany
Karin Heinlein
Dipl.Ing. InteriorDesign
Troppauer Straße 22
91315 Höchstadt
Telefon:
+49 (0) 172 917 333 0
E-Mail:karinheinlein@gmx.de

Gardenbench and parkbench packaging in cardboard box.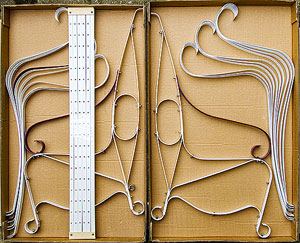 Before you will send an order, please see our terms and conditions on the right side.
By sending of the order customer confirms that had read our terms and condition, fully understood them and agree with the content.
We hope that we aroused your interest for OBISS-benches. We will gladly answer your questions and look forward to hear from you.
Pinterests inspiration - color combinations